By Donovan Baldwin

Several years ago, a young man named

Corey Rudl

began marketing a simple book on cars on the Internet. Along the way, he discovered, through trial and error, methods to maximize his income from his simple little book. Eventually, he was doing so well that he realized that he had created a new, even more important, product:

Corey Rudl had learned how to take almost any product and become a successful Internet marketer with it!

Corey put together a team and put all his knowledge into the first course titled "The Insider Secrets to Marketing Your Business on the Internet. The name has since been changed to The Step by Step Guide to Selling Online.".

Over the next few years, Corey, and his organization, The Internet Marketing Center (IMC), kept experimenting with new Internet marketing techniques and discovered even more, better, ways to pick a product to market, develop the the marketing plan for the product, and produce massive sales. He, and his team at IMC, constantly tested techniques on their own products to prove that they worked before adding them to The Insider Secrets to Marketing Your Business on the Internet marketing course.



It must have worked, because in one year alone,
Corey and the Internet Marketing Center made over $40 million in sales!





The Unfortunate Death of Corey Rudl



Unfortunately, in 2005, while only in his mid-thirties and at the height of his success, Corey Rudl died of injuries sustained in a racing accident while riding in a car driven by another driver at the California Speedway. Despite this early demise, Corey Rudl's success as the premier Internet marketing guru allowed him to live a lifestyle that he enjoyed, and racing cars was right at the top for him.



Derek Gehl and the Internet Marketing Center



At the time of the Corey Rudl death crash,

Derek Gehl

, Internet marketing strategist, software developer, e-commerce columnist and seminar speaker, was his partner. After Corey's death, Derek took over the helm of the IMC and has continued the work begun by Corey Rudl.

Under his leadership, new products have been developed and released, and the old standby, the Internet Marketing Bible, "The Insider Secrets to Marketing Your Business on the Internet" has continued to grow and evolve, holding its premier position as THE Internet marketing course that should be taken by anyone wishing to be successful with an Internet marketing business.



CLICK HERE FOR MORE INFORMATION ABOUT THE "INSIDER SECRETS TO MARKETING YOUR BUSINESS ON THE INTERNET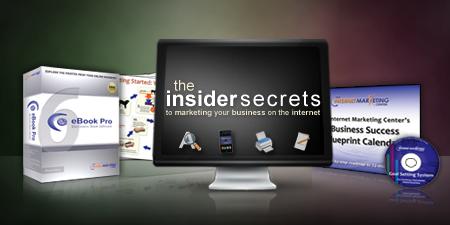 So, what was in the original Corey Rudl Internet Marketing Course
as updated by Derek Gehl and the IMC team?



Both the original edition, and the most recent edition, of "Insider Secrets to Marketing Your Business on the Internet," offer everything you'd expect from a beginner's guide To Starting an online business, with today's edition containing innumberable updates supplied by the Internet Marketing Center's research group.

The original Corey Rudl Internet Marketing Course came in two binders and weighed over 10 pounds! Today's immediately accessible online version contains over 1,250 pages of detailed, moneymaking strategies and Internet marketing techniques are carefully laid out in bite-sized, easy to understand sections with lots of guidance so you can immediately begin applying the information. This makes it unbelieveably easy to recognize what you need and what you need to do to apply it to your business, and then move onto the NEXT step.

Then, and now, the "Insider Secrets" system carefully guides both the beginning Internet marketer and the more experienced business owner through the following critical steps:

Deciding what you should sell...
Setting up and getting a sales website live...
Attracting your first visitor(s)...
Taking your first credit card payment!
Ramping up sales & traffic volume quickly!
Automating your business so it will truly be "hands free"
Contents of Insider Secrets to Marketing Your Business on the Internet





Here are a few topics you will find discussed within this amazing Course...




* How to use powerful automated research tools to quickly multiply your hobbies and interests into HUNDREDS of potential business ideas!

* A simple "measuring stick" that will instantly tell you if your product idea has REAL income potential... before you spend a penny developing it!

* The SEVEN best ways to make money from a website -- add each one to your website like building blocks and watch your income explode!

* How to get paid BIG commissions by recommending other people's products on your website!

* How you can quickly become a "Super Affiliate" and earn a full-time, six-figure income -- without EVER selling a product of your own!

* Plugging NEW Revenue Streams into Your Website to Incrementally Build Your Online Income by $1,500 to $8,000+ Per Month!

* Secrets for Squeezing WAY MORE Sales and Profits Out Of Your Existing Traffic, Subscribers, Products, and Website!





And here are even more benefits of the modern version of the
Corey Rudl Internet Marketing Course by Derek Gehl
and the Internet Marketing Center Gang...





* Real time updates with the latest and greatest online marketing strategies in the form of streaming videos for ease of learning

* A huge amount of downloadable content for your iPod, iPhone or other mobile device

* The master blueprint for launching and expanding Your Internet business shipped To You free!

* IMC's foolproof, procrastination busting, goal Setting DVD and workbook...shipped free!"

* If all this were not enough, get a private 30-Minute phone consultation With One of IMC's personal eBiz trainers...



If you are contemplating getting online and trying to make a go of it with an Internet business, insure your success by getting the Internet marketing course that started it all.



One last thing - my personal testimonial



I had actually been making money online for a couple of years when I decided to purchase MY copy of The Insider Secrets to Marketing Your Business on the Internet in 2005. As I read through the materials I received, my first thought was, "I know all this already! What a waste of money."



Then, as I read a little farther, I began to gather hints and tips that I HAD NOT PREVIOUSLY KNOWN!



As I began to incorporate these ideas into my Internet marketing methods, my website traffic went up, and my income began to increase. Within a few months, I went from making a few hundred extra dollars a month to making the holy grail of all Internet marketers...

I was making a six figure income from my online business as a direct result of following the precepts outlined in the Corey Rudl Internet Marketing Course.

Now, no one can say what results you will have in your Internet marketing career, but I, and every other successful Internet business owner I have ever known, became successful as a result of following one of two courses. Either we spent a lot of our own money doing foolish things as we learned what worked and what didn't, or we learned from mentors who had gone before and who could guide us away from danger and failure and toward success.



It's your choice!



You can either pay a lot of what I call, "accidental tuition", or you can get help from the most successful guys in the business...for a lot less money.




Click Here

for more information about how to acquire a vast education in Internet marketing and how to learn the same array of

Internet marketing techniques

that I have used for years to help build an online income of $100,000 a year.

Is the Internet Marketing Center a Scam? Click Here to learn one person's answer.

Learn more about: