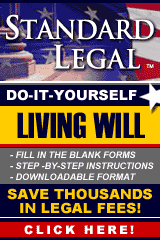 More Articles About Living Wills
Do It Yourself Legal Forms
The Living Will and Health Care Considerations

It can be scary to consider the possibility of becoming terminally ill or debilitated. Many simply choose to brush it off as an improbable event...after all, if you don't think about it, it won't happen, right. However, the possibility of such events shouldn't be ignored.

You never know what tomorrow might bring, so you should be prepared for such circumstances and events as soon as possible. One of the most effective ways people can do that is through living wills for health care.

The living will is a legal document which contains a person's specific wishes with regard to health care if they are unable to make their choices known at the time. These legally binding documents are intended to take effect in the event of severe illness and/or incapacity of the maker to convey preferences, and make decisions about medical treatment, and other life-sustaining measures.



Triggering Circumstances for a Living Will



Basically, there are two rather broad situations in which the advance directives contained in a living will may be valid. These two are; terminal illness, and permanent disability.



1) Terminal Illness



In the case of terminal illness, death is anticipated to occur within a fairly short span of time. More and more often these days, people dislike the idea of medical treatment for the sole purpose of sustaining life without restoring its quality.

While many individuals, and their families, facing terminal illness, might consider a decision for treatment as being acceptable, while others simply consider it as simply prolonging the pain and suffering. Most living wills for health care deal with this kind of situation. Not being able to state your wishes at the time, doctors would unhesitatingly respect the desires you have stated in the contents of a living will with regard to terminal care.

If your personal philosophy is to live a shorter, yet more comfortable life in the face of a terminal illness, you can certainly express your beliefs in your living will. So, in case you become incapacitated and unable to communicate, your attending physicians and your family will no longer be forced to assume what you would have wanted since you've already outlined it for them.



2) Permanent Disability



Unfortunately, some poorly structured living wills fall short in addressing another main concern for future unfortunate eventualities - permanent disability. It can be more difficult to arrive at any consensus as regards to this condition for two primary reasons if you have not left a definite medical directive.

The attending physicians, and, the health team in attendance, may attempt to put their own sets of values into play when determining a patient's care. While they may have the same opinion about withholding measures to sustain life in the case of a terminal illness, they may strongly contest the same action in patients with permanent disability. As you can see, this would create a difficult situation for both the health care providers and the famil.

Another difficulty is the existence of a very large assortment of chronic impairments which may be in play. Because of this, and personal attitudes towards various conditions, people often disagree as to what constitutes an unbearable condition.

For instance, some may be terrified of a stroke which could result in the inability to properly think or communicate, while others may be frightened of impaired mental capacity, or, of a permanent dependence on other. Stated simply, the circumstances that could activate the application of a living will to permanent disability may vary on a case-to-case basis, and you, the maker of such a document, have the option of specifying your desires in advance.

Needless to say, you, the creator the living will, must determine the triggering circumstances which bring your decisions into play. These conditions should be defined as explicitly as possible with reference to three main factors: type of condition, its severity, and its permanence or irreversibility.

Use of general terms such as "impaired communication" or "loss of dignity" are best avoided since they may have different interpretations to different people.

Living wills for health care have the virtue of saving the patient and his/her family a great deal of pain. They offer answers in advance for situations which are often too difficult to decide in the moment.

While relieving loved ones and medical personnel from the pain of having to make difficult decisions, these legal documents provide a guarantee that the patient's wishes are fully understood and implemented in the event of such painful and upsetting circumstances.