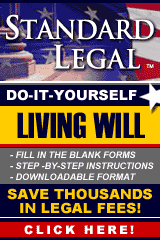 More Articles About Living Wills
Do It Yourself Legal Forms
Living Wills and Advance Medical Directives

A living will is just one part of what is referred to as "advance directives" which any person may make to identify and specify personal medical treatment preferences in case of an end-of-life situation. Keeping in mind that such end-of-life events could occur at any age, rational adults need to prepare a living will if they want to decide in advance which medical procedure or treatment they want medical people to take and relatives to understand and respect.

Stated simply, a living will describes personal preferences with regards to any treatment in case someone experiences a serious illness or accident. It is a legal document which can speak for that person in the event he or she becomes unable to express wishes or speak for himself or herself, as in the case of a coma. A living will is not just for older adults, either. Legally, any person over the age of 18 years, could create a living will and other legal advance directives.

By definition, a living will, and all other, similar legal advance directives, is simply a set of written instructions about a your specific medical care preferences and choices. If you make a living will, your family and your doctor have a legal document and clear set of instructions which they can consult in case you become unable to make decisions for yourself regarding significant medical treatments and procedures.

It is important that the document is drafted and prepared by you, but there should be some sort of legal or lawyer's advice and assistance to make it valid and binding. While a living will may not be as important as a will and testament or a living trust, more and more people are deciding to have one, with regards to high medical costs and the extreme measures often taken even after there is no hope for recovery.

Any living will, or advance directive, should probably include a medical Power of Attorney (POA) and a Do Not Resuscitate (DNR) order. Some people prefer not to include these two. However, in many cases, inclusion of eiter or both has proven to be advantageous to all concerned parties.

The medical POA is a legal document which designates an individual (Usually called a healthcare proxy or agent.) to carry out wishes or make important medical decisions in case the person in need of treatment (or not) becomes unable to make that decision. This is also sometimes referred to as a "durable power of attorney for healthcare".

In case you may have some familiarity with the standard Power of Attorney, you should be aware that a medical POA is very different in nature. Many a living will includes a medical POA, especially when people owning the documents aim to spare their family from being faced with extremely difficult and heart-breaking medical decisions in the future.

Also, you need to understand that the DNR order is a special request by a person not to attempt any cardiopulmonary resuscitation if the heart suddenly stops beating or breathing stops. A living will may or may not include a DNR order. The Do Not Resuscitate order can also stand alone on its own and may not require a living will or advance directive to be effective and implemented.