Do It Yourself Bankruptcy Software and Legal Forms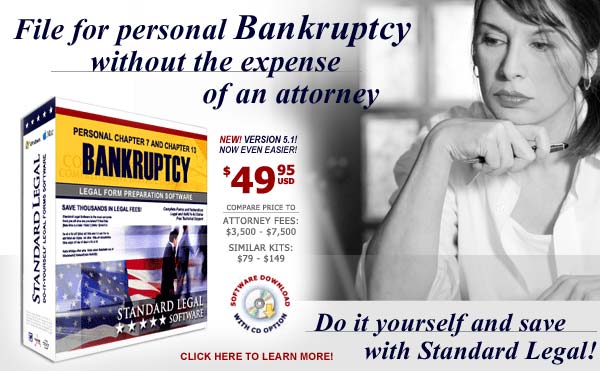 If
filing for Bankruptcy
seems to be your only solution to unbearable debt, then make your filing using
Standard Legal's Bankruptcy legal forms software. With all of the necessary documents and comprehensive instructions included, this do-it-yourself bankruptcy software will save you time, stress and a significant amount of money. This straight-forward package contains everything you need to complete a Chapter 7 or Chapter 13 personal bankruptcy filing, either individually or jointly as a married couple, all without the need for an attorney. FULLY UP-TO-DATE, INCLUDING THE MOST RECENT 2010 FEDERAL MANDATED REVISIONS -- and revisions made by each of the 90+ U.S. District Bankruptcy Courts as well!


* * * * * * * * * * * * * * * * * * * * *


We all understand how easy it is for financial situations to get out of control.

Sometimes it begins so simply with the loss of a job, causing income levels to change dramatically in a short period of time. Or, perhaps it's the death of the primary wage earner in the family, where the rest of the family can no longer meet the obligations that were taken on previously. Or maybe it's some sort of significant change in the economy as a whole, or a consistent debt pattern of an individual that has finally spiraled out of control.

Whatever the reason for the resulting deep, and ongoing, financial difficulties, there often will eventually come a time when enough is enough. Creditors call constantly, cajoling, threatening, and perhaps even lying. The debt load and related interest continues to increase, and there is no longer any apparent way out of the situation.



Every year, thousands of people and families just like you experience this exact same type of financial difficulty. While it is never an easy decision, sometimes the filing of a bankruptcy seems to be the best decision.

If you decide to proceed with the filing of bankruptcy, then Standard Legal's Bankruptcy legal forms software package is the most effective do-it-yourself solution available for either an individual filing or a joint filing with your spouse.

A bankruptcy attorney can cost thousands of dollars, at a time when money is already tight. Coming up with the amount necessary to hire an attorney can often be nearly impossible. That's when you need a clear way to resolve the issue on your own. That's when you need the directions and overviews provided by a person experienced in bankruptcy who can teach you how to proceed through the filings and paperwork required. That's when you need the information provided by Standard Legal.

To be clear: the Bankruptcy process is definitely NOT "quick and easy". Nor should it be; a person filing for Bankruptcy is asking a court to wipe away legitimate debt owed to others. But if your personal situation meets the requirements of the Bankruptcy Court, then the legal forms and instructions provided by Standard Legal are the best available to help you through the process on your own.

The instructions and overviews in this do-it-yourself bankruptcy software have been written by a long-time bankruptcy attorney; this attorney has handled personally hundreds of bankruptcy proceedings. He has taken that experience and put it into providing not only instructions on completing the necessary documents, but into adding real insight into the process, to help you make the right decisions at every stage.

Standard Legal's forms and instructions fully comply with The Bankruptcy Act of 2005, and have been revised to include the 2008 updates, the November 1, 2009 Means Test changes, the December 1, 2009 updates, and the April 2010 form revisions! The package includes a "Means Test" to determine the type of bankruptcy that can be filed, and all of the forms necessary for both Chapter 7 Bankruptcy and Chapter 13 Bankruptcy. (Both types of forms are provided because the new Means Test determines the type of bankruptcy a person is eligible to file.)

In addition to step-by-step instructions for completing each and every one of the Bankruptcy forms, Standard Legal also provides four introductory overview documents covering the most pertinent Bankruptcy subjects you need to know:


- Changes in Bankruptcy Law
- Introduction to Bankruptcy
- The Bankruptcy Process
- Frequently Asked Questions


Further, Standard Legal's Bankruptcy legal forms software package includes:

- Detailed information concerning which documents are required to be filed (for either individual or joint bankruptcy) and the costs associated with filing your case;

- Information relevant and specific to each District Bankruptcy Court within the United States;

- Bankruptcy forms that provide automatic 'like field' form pre-population from a single data entry, and automatic mathematical calculations for form field financial data;

- Information about completing the court-required Credit Counseling and Debtor Education Courses -- and access to a discount code that provides both courses online for just $59 (that's $30 off the normal price);

- Suggestions for presenting your completed documents to the court;

- Suggestions for appearing before the bankruptcy trustee;

- Access to any and all local Bankruptcy court forms (those required by your specific region's District Bankruptcy Court and even specific judges within a district);

- A list of important and helpful web site links that can assist in making your case run smoothly;

- Information concerning the new Bankruptcy Reform Act – and how it has affected one's ability to file for bankruptcy;

Standard Legal's Bankruptcy legal forms software will help you get a difficult financial situation put to rest, so that you can begin to move forward with the rest of your life. Create your bankruptcy filing today, before the Court further tightens the eligibility rules!

IMPORTANT NOTE: persons who represent themselves in a Bankruptcy proceeding (also called "Pro Se filers") may not be given advice from any person, agent or entity because there is no attorney-client relationship in place. This stringent requirement was strengthened even further by the Court in the Bankruptcy Act of 2005. Therefore, we strongly suggest you read the required Bankruptcy Disclosure prior to the purchase and use of any bankruptcy software product.

The forms provide by The Standard Legal Network are the most up-to-date, legally accurate and easiest-to-use in the industry. Many of our competitors provide forms that are poorly formatted, out of date or simply filled with inaccurate instructions. Our Standard Legal Software packages are the clear choice for do-it-yourself legal products!


--------------------------------------------------------------------------------